HANHART WATCH MANUFACTORY
Tradition and Expertise since 1882
When in 1882 a small watch shop was opened in the Swiss town of Diessenhofen, one wasn't yet to know that the name Hanhart would later stand for Europe's largest producer and the market leader in the mechanical stopwatch sector, playing a leading role in the German clock industry.
Apart from a brief period after the Second World War, Hanhart boasts an uninterrupted manufacturing tradition up to the present day. The company's breakthrough came in 1924, when Willy Hanhart, the sports-loving son of the founder, launched the first affordable mechanical stopwatch. In 1938 then came its second great era: Hanhart became a pioneer in the production of pilot's chronographs and with its Calibre 40 paved the way for the development of these nowadays extremely coveted collector's items. From the 1950s onwards, Hanhart increasingly focussed on manufacturing mechanical stopwatches and consequently attained global reach through their use in sporting time measurement. Hanhart stopwatches became indispensable at important car races and sporting events, as well as for general school requirements.
The company countered the so-called "quartz crisis" from the '70s onwards by establishing a separate plastic foundry and developing its own quartz movement, the Calibre 3305, which has sold into the millions. Hanhart drew on its own pioneering achievements in the late '90s and launched the legendary pilot's chronographs as meticulously crafted new editions. Thus, the predecessors of today's Hanhart collection were born.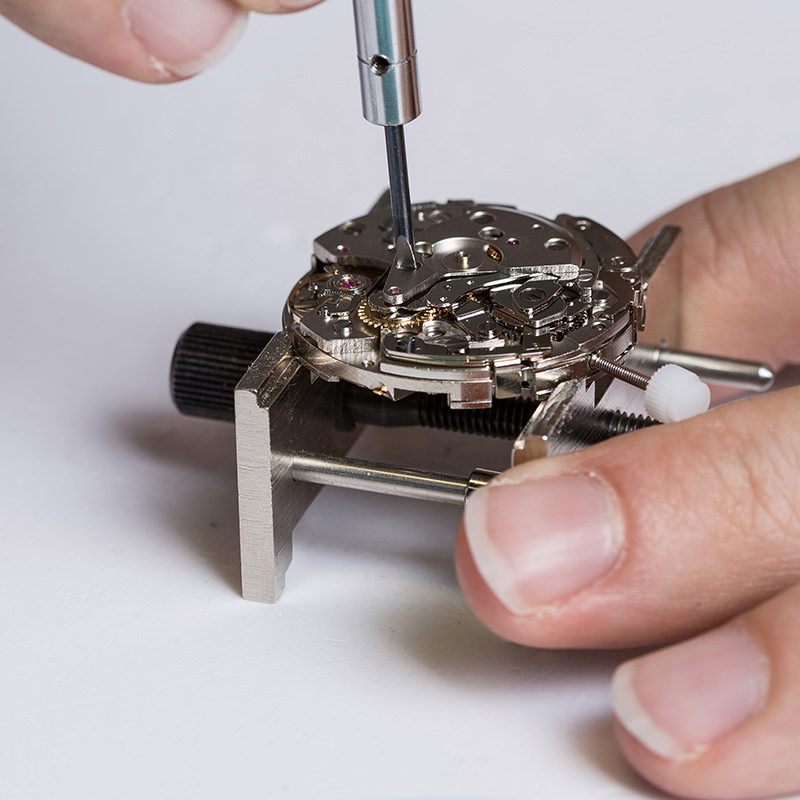 Highest quality standard made in Germany
Only a short time ago, a new watchmaking workshop was established in Gütenbach, where the fine Hanhart wrist chronographs are produced. Right next door to this workshop, Hanhart's unique corporate history is showcased in a museum of precious exhibits and timepieces that the watch manufactory has produced since the time of its foundation.
The factory in Gütenbach boasts its own in-house production of tools and manufactures its own parts. From the smallest gear wheels to circuit boards – a great variety of parts for mechanical clock movements are developed and made at this location in the Black Forest.
Over numerous stages of manufacturing, milled, punched or eroded components are first assembled into modules. In the final assembly, the watchmakers piece all the components together and set the dials and hands. The result is high-precision wrist and stopwatches with specially developed additional functions and the quality seal "Made in Germany".
Anyone who's curiosity has been sparked by this is warmly invited to visit the Hanhart Museum on Wednesday afternoons. Take advantage of the opportunity to look over our watchmakers' shoulders, allow yourself be inspired by their craftsmanship, and accompany us on a journey through time.
Hanhart on the Route of German Manufactories
Since 2017, Hanhart has been a member of the Route of German Manufactories (die Deutsche Manufakturenstraße), an almost 2,500km-long road of rich experiences that leads you, along four routes, to the most important manufactories in Germany. The routes stretch from the Baltic Sea to Lake Constance, taking in all 16 federal states.
The coalition of manufactories makes it their mission to foster and maintain high-quality production, both technical and aesthetic, and to promote responsible production in terms of ecological, economic and social sustainability, where traditional craftsmanship is reconciled with present and future possibilities, and they aim to preserve regional cultural diversity in their activities.
For this reason, this road of experiences is not only interesting from a tourism perspective – for manufacturing enthusiasts – but as a not-for-profit organisation, it also brings manufacturers, traders and consumers into contact with one another, and imparts knowledge about quality and methods of production.